Tennis: Royal Backing Inspires Federer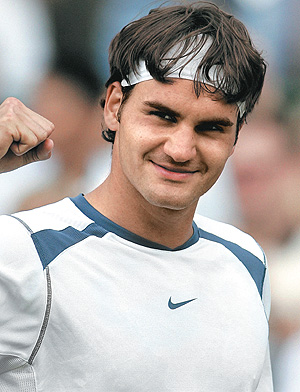 Swiss star, Roger Federer has breezed into the Wimbledon men's semi-finals after thrashing Russian Mikhail Youzhny 6-1 6-2 6-2 in the Quarter Finals.
Following his victory, the 30 year old was quick to recognise just how impressive his form has been at this years' championship.
"I thought I played great out there," said Federer, whose performances have caught the eye of several sport news punters.
"I'm extremely happy to be back in the semi-finals here at Wimbledon."
Federer was also keen to thank his supporters, including the Duke and Duchess of Cambridge who appeared in the royal box for his victory.
"I think it helps when royalty shows up and other legends of the game come to see me play" he said.
"I think it's inspiring. I'm happy they came to support tennis and support me. It was very special" he added.
It is no wonder that Federer is delighted to have made it to the last four at Wimbledon for the first time since 2009; his victory over Youzhny has allowed him to pull clear of Jimmy Connors as the record holder for the most appearances in Grand Slam semi finals.
When Federer meets Novak Djokovic in the first mens semi-final on Friday it will be the 32nd time that he has reached the last four at a Grand Slam event and he is relishing the prospect of their first meeting on grass.
"I'd love to play Novak, there's no doubt about it," Federer said.
"I don't think I've played him here at Wimbledon so that'd be a first and a nice match hopefully."
Despite back problems earlier in the tournament, Federer has played some exceptional tennis at this year's Wimbledon and sports betting trends suggest he hitting form at just the right time.
Djokovic is currently the world number one, but Federer is in rampant mood and the Serb will have to play exceptionally well to end the six-time champion's challenge in 2012.