All American Poker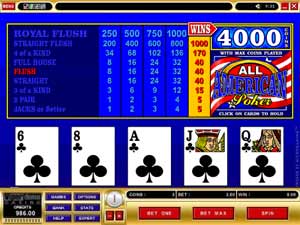 All American video poker is similar to the standard Jacks or Better. The only difference between the two games is the payout table : Royal Flush - Stays the same, Straight Flush - Higher 90 compared to J/B 50, Four of Kind - Higher 35 compared to J/B 25, Full House - Lower 8 compared to J/B 25 9, Flush - Higher 8 compared to J/B 6, Straight - Higher 8 compared to J/B 4, 3 of a Kind – Stays the same, Two Pair - Lower 1 compared to J/B 2 and 1 pair – Stays the same.
It is played with a standard 52 card deck and each player is dealt 5 cards which can be held or discarded, and then replaced with new cards from the deck.
Even though All American video poker offers players a payback over 100% it is not as popular as some players might have expected it to be.
The thing that stands out with standard Jacks or Better is that its pay outs do not coincide with the frequency of hands. The payouts for a Full House, Flush and Straight are 9, 6 and 4 -1, but the frequency of the hands were a lot closer than the payouts suggested. This is where All American video poker differed and made the 3 hands payouts 8 – 1.
Play All American Poker at the Following Online Casinos:
Springbok Casino | Thunderbolt Casino | White Lotus Casino
Different Variations of Video Poker Games:

Aces and Faces Poker | All American Poker | Deuces and Joker Poker | Caribbean Stud Poker | Basic Video Poker