Caribbean Stud Poker History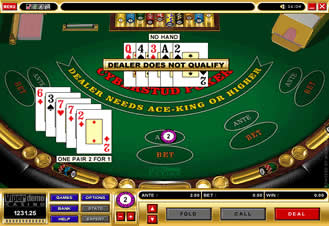 Caribbean Stud Poker is one of many variations of Poker that has a mysterious history.
Poker or "Pogue" as it is said in French, originated in France and was brought into North America in the 19th century by French explorers. It is believed that it was first played in Louisiana, and it's popularity quickly spread through the West and then throughout all of America.
Caribbean Stud Poker is a rather new version of Poker and was first played in the 1980's. There is nothing specifically know about the inventor of this version of the game, but is believed that the person who invented Caribbean Stud was definitely trying to combine Poker and Blackjack. Players have to obtain a traditional Poker hand in order to win and they play against the dealer.
There are also similarities in the pattern of betting. The game is said to have originated in a Dutch Casino situated in Aruba, which is a Caribbean Island. Caribbean Poker had already been going for five years before Vegas casinos found out about it. As the house advantage was so high, the Vegas Casinos decided to offer players this interesting game plus added a appetising side Jackpots to add to the whole gambling experience.
Caribbean Stud Poker can be played in almost all land based casinos and even on the Internet. It is a fun and popular game to play, and there are many online casinos that offer this game to their players. There are also some great Bonuses to cash in on.
Play Caribbean Stud Poker at the Following Online Casinos:
Springbok Casino | Thunderbolt Casino | White Lotus Casino
Different Variations of Video Poker Games:

Aces and Faces Poker | All American Poker | Deuces and Joker Poker | Caribbean Stud Poker | Basic Video Poker